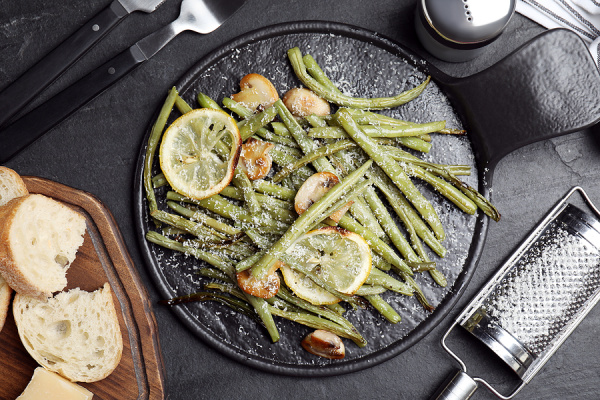 Green beans are a classic and delicious side dish that are used to compliment everything from weeknight roasted chicken to a Thanksgiving feast. While they make for an awesome side, that's not all these healthy beans are good for. Green beans hold their own in dishes ranging from bean salads to casseroles to soups. They cook beautifully in a crockpot and are much more versatile than you may think. While buttered green beans will always be a fan favourite, check out these green bean recipes that are sure to make you look at green beans differently.
5 Health Benefits of Green Beans
1. Boosts Your Energy Levels
Green beans are chock full of iron, an essential component of red blood cells that transports oxygen from the lungs throughout the body. If you have anemia, notice your energy levels drop or have a low metabolism, add green beans into your regular meal rotation.
2. Promotes Gastrointestinal Health
Green beans are a great source of fibre, which boosts overall gastrointestinal function. Fibre plays a major role in digestive health, keeping your bowel movements soft and regular. Inadequate fibre can lead to constipation and symptoms of irritable bowel syndrome. Green beans contain both soluble and insoluble fibre, with insoluble being the most prominent. This type of fibre moves quickly through your digestive system, promoting a healthy digestive tract.
3. Protects Against Free Radical Damage
Free radicals are unstoppable atoms that can damage cells, causing illness and aging. They can trigger heart ailments and cancer and the best protection against them is antioxidants. Green beans have a high antioxidant content, helping prevent free radical activity.
4. Improves Heart Health
Green beans contain no cholesterol, and although your body needs some cholesterol for healthy cell growth, too much can be dangerous. High cholesterol can lead to a buildup of fat deposits in your arteries, which can disrupt blood flow to your heart and brain and lead to a heart attack or stroke. The soluble fibre in green beans can help lower LDL or bad cholesterol and may also promote heart health by lowering blood pressure and reducing inflammation.
5. High in Vitamins and Minerals
Green beans are packed with vitamins and minerals that offer many health benefits. They're a great source of vitamin C, an antioxidant that helps boost your immune system. It's also key for the production of collagen and helps protect your skin from oxidative stress. Green beans also contain a good dose of vitamin A, which is essential for immune health, reproduction and healthy vision. Plus, they're a good source of minerals, specifically manganese, which supports your metabolism and has antioxidant abilities. It also supports bone health and promotes wound healing.
3 Tips for Cooking with Green Beans
1. Cook Beans While Fresh
Always be sure to use fresh green beans while cooking. Old green beans can become dry and limp, or they may feel rubbery and tough. Fresh green beans are firm, bright and easy to snap. When you buy green beans plan to use them soon so you can make the best out of cooking with them.
2. Trim the Beans
You need to trim the stems off your beans before you start cooking. Trim as little as you can to prevent the bean from soaking up too much water during cooking. Try cooking shears for quick and precise cutting. You can trim just the stems or both sides, depending if you like the look of them with their tail attached.
3. Use Seasoned Water to Cook
When cooking your beans, use plenty of seasoned boiling water. They will take anywhere from 5 to 10 minutes to cook, so keep an eye on them starting at the 5 minute mark. You'll know they're done when they're tender yet still crisp! Drain them and rinse under cold water so you stop the cooking process immediately.
12 Healthy Green Bean Recipes
1. Green Beans with Lemon and Garlic | Food Network
2. Grilled Green Bean Salad | Woman's Day
3. Sesame Glazed Salmon and Green Beans | Budget Bytes
4. Garlic Parmesan Green Beans | A Sweet Pea Chef
5. Green Bean Salad with Toasted Almonds and Feta | Cookie and Kate
6. Green Bean Potato Salad | Girl Gone Gourmet
7. Chicken and Vegetable Penne with Parsley Walnut Pesto | Eating Well
8. Three Bean Salad | Dinner at the Zoo
9. Sesame and Ginger Green Beans | BBC Good Food
10. Summer Bean, Corn and Radish Salad | Woman's Day
11. One Pot Coconut Milk Curry with Chickpeas | Eating Well
12. Greek Grilled Salmon Kebabs with Tzatziki and Green Beans | Eating Well
12 Casserole Green Bean Recipes
1. Green Bean and Asparagus Casserole | Woman's Day
2. Healthy Green Bean Casseroles | Well Plated
3. Green Bean Casserole with Crispy Fried Onions | Spend with Pennies
4. Green Bean Casserole with Bacon and Mushrooms | Kinder's
5. Green Bean Casserole with Crispy Sausage | Woman's Day
6. Creamy Green Bean Casserole | Sally's Baking Addiction
7. Twice the Onion Green Bean Casserole | Melanie Makes
8. Vegan Green Bean Casserole | Minimalist Baker
9. Lightened Up Green Bean Casserole | Skinny Taste
10. Southern Green Bean Casserole | Paula Deen
11. Cheesy Green Bean Casserole | Cravings by Chrissy Teigen
12. Bacon and Brussels Sprout Green Bean Casserole | Southern Living
12 Crockpot Green Bean Recipes
1. Slow Cooker Vegetable Soup | Eating Well
2. Slow Cooker Green Beans with Bacon | Mom on Time Out
3. Southern Slow Cooker Green Beans | Southern Bite
4. Crockpot Green Beans and Potatoes | Recipes That Crock
5. Crockpot Buttery Bacon Green Beans | Spicy Southern Kitchen
6. Crockpot Green Bean Casserole | Well Plated
7. Crockpot Green Beans and Potatoes with Ham | Savoury with Soul
8. Slow Cooker Green Bean Casserole with Crispy Onions | Eating Well
9. Crockpot Italian Green Beans | Great Grub, Delicious Treats
10. Crockpot Green Beans and Ham | Seeking Good Eats
11. Slow Cooked Lebanese Green Beans and Beef | The Lemon Bowl
12. Crockpot Vegan Green Bean Casserole | Mealz
Green beans are a healthy and delicious veggie that not only make a great side dish but also hold their own as a main. Try out these awesome and versatile recipes the next time you're looking for a healthy dish.