The world of personal care is a complicated one. Throw in the decision to prioritize natural products and it can seem downright overwhelming. No need to fear. Follow these 12 tips and you'll do just fine, fellas.
01
Be scent-sible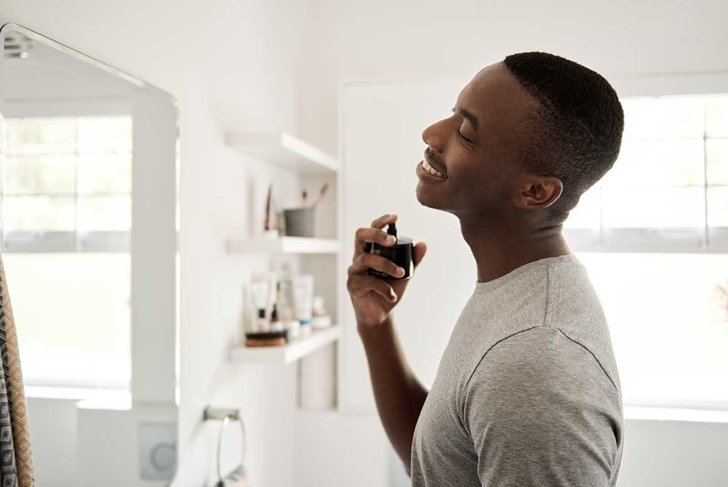 You've come a long way from misting those dollar-store body sprays from head to toe in the high school locker room. Show off your sophistication with a signature scent. Hop on over to your natural health retailer for cologne and deodorant options sure to impress, formulated without nasty (headache-inducing) chemicals.
02
Embrace the spa

Yes! Men can, and do, go to the spa too. From a deep-tissue sports massage that works out tight muscles to a pedicure that keeps things trimmed and tidy, spa services can be practical, smart investments in self-care.
03
Scrub from head to toe

Sloughing off dry, dead skin cells can be a blissful experience. Choose a natural body exfoliant from a natural health store (many come in "manly" scent options such as mint or eucalyptus) and scrub rough patches in the shower. Bonus points for using a lip scrub and facial exfoliant!
04
Consider your brows

No need for perfectly coiffed eyebrows. Thankfully, the ultra-thin look of the '90s is out of fashion for men and women alike. However, if your brows can be considered singular rather than plural, you may wish to address the situation. Here's a simple fix: ask the pros for a little help next time you're at the barber. Otherwise, there are many brow bars around that offer quick and easy waxing.
05
Slather on the SPF

Think you don't need sunscreen if you work inside every day? Not so. Researchers have found that we have more sun damage, wrinkles, age spots, sagging, and even skin cancer on the left sides of our faces.
Why? Because of our commutes. UV rays penetrate car windows, leaving drivers exposed and vulnerable. For the best and safest protection, choose a natural, mineral-based sunscreen from your local health food store and wear it every day.
06
Give yourself a man-icure

If your palms are reminiscent of sandpaper and you're not even sure what your cuticles are, it may be time for a manicure. You may certainly go to the pros, but you can also do a DIY version at home.
Soak your hands in warm water.
Dry your hands and scrub your nails and nail beds with a soft nail brush.
Use a natural hand scrub to remove calluses and soften skin.
Clean under your nails with a manicure stick.
Trim and file your nails.
Gently push back your cuticles with a clean manicure stick (but to avoid infection, don't trim them).
Apply a natural moisturizer.
07
Cleanse at night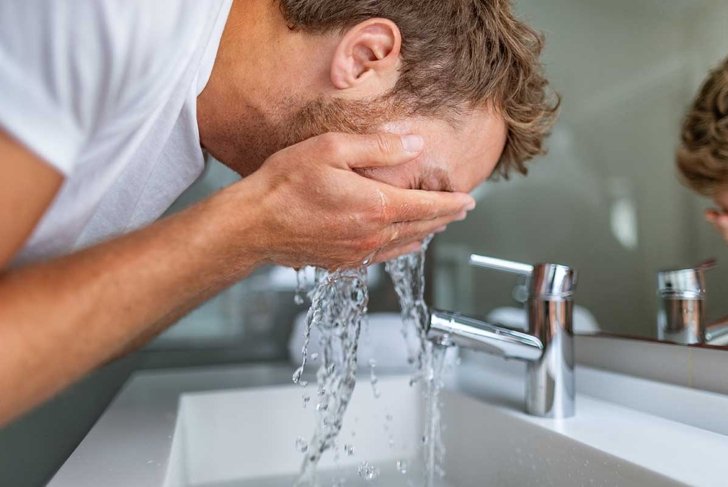 If you shower in the morning, you may not give your face a nightly cleanse, but you shouldn't skip this important step. And nope, it doesn't matter if you don't wear makeup. During the day our skin is exposed to dirt, germs, and pollutants. Do your complexion (and your pillowcases) a favour by washing in the evening with a natural, gentle cleanser.
08
Hands off your face

One of the simplest things you can do for your skin is also one of the most effective: just don't touch it. Transferring dirt and oil onto your skin can aggravate sensitive skin and worsen acne. Plus, picking pimples can cause infection and lead to scarring.
09
Man up to moisturizer

Dermatologists recommend moisturizing your face morning and night after cleansing to preserve your skin barrier; keep skin smooth and soft; prevent skin water loss; and reduce the likelihood of dry, red skin and wrinkles. Those with oily skin can still benefit from a layer of oil-free natural facial lotion—some even contain acne-fighting ingredients such as tea tree oil or willow bark.
10
Polish those pearly whites

Our smiles are hugely important to our sense of confidence. Thankfully, natural whitening toothpastes are readily available at natural health retailers. Look for products that don't contain artificial preservatives, colours, flavours, or foaming agents.
11
Invest in a good razor

Gents, it's time to look past the cheap (and environmentally harmful) disposable razors. Invest in a quality razor for the smoothest shave possible. Feeling up for a challenge? The experience of shaving with a straight razor, although initially challenging, is said to be the most precise, professional, and luxurious.
12
Try a grooming trend

Who says beauty trends are just for women? Here are a few grooming trends for the guys.
The "Dad Facial"
Facials for guys are on the rise, and it's not surprising why. They feel amazing, offer a much-needed time-out, and can help us address our skin concerns with targeted treatment.
Makeup for men
The number of men wearing makeup is small, but it's rapidly growing! Thanks to the up-and-coming "selfie generation," more and more men are experimenting with makeup for fun, as well as for quick cover-ups. It's even predicted that cosmetic counters targeted specifically to men will pop up in the next few years.
New hairstyles
Step aside, man buns. The next big hair trends for gents are said to be short but messy haircuts, beards embellished with accessories (and even glitter!), and braids.