Whether you're looking for yoga poses you can do in the classroom with your students, or yoga videos you can stream from home to help your little ones relax and unwind, we're sharing our favorite yoga for kids poses and videos you can practice pretty much anywhere!
Yoga is more than just a workout; it stimulates your mind and body, and connects them in ways that are extremely valuable to your health. More so, the benefits experienced while practicing yoga (stretching, strengthening, relaxation, etc.) are carried over to other aspects of your life. From boosting your immune system to increasing your happiness, yoga is beneficial for adults and kids alike!
The poses and videos in this post are designed to help little ones stretch and strengthen their bodies, while also allowing them to calm down and relax. You can do these morning, noon, and night to help your kids develop a stronger mind-body connection while also giving their mood a boost and helping their bodies reap the benefits of longer, more restorative sleep.
Yoga for kids is also a great brain break activity that can be used at school – and during virtual learning – to help kids focus and concentrate when they're feeling restless.
8 Benefits of Yoga for Kids
Improves flexibility
Develops balance and coordination
Improves focus and concentration
Develops mind-body connection
Boosts mood
Helps reduce stress, anxiety, and depression
Improves self-regulation
Improves sleep
7 Easy Yoga Poses for Kids
1. CHILD'S POSE
If you're new to yoga for kids, child's pose is a great beginners pose to start with. It helps to lengthen and stretch the neck, spine, lower body, hips, thighs, and ankles, and it's very calming and soothing, making it a great pose to help kids relieve stress and anxiety.
How to do it: Start in a seated pose on your shins and fold your torso over your legs with your arms straight out in front of you or by your sides. Your forehead can rest right on the floor, so you can massage it left to right. I suggest using a yoga mat for this pose so that your head isn't resting straight on the floor. Take long breaths in this position as it helps calm the mind and ease tension in the body.
2. EASY POSE
Easy pose is another great option for those who are just getting into yoga for kids. It's a basic seated yoga posture that helps brings you into a state of tranquility, eliminating anxiety and relieving physical and mental fatigue. It promotes groundedness and inner calm by opening your hips, lengthening your spine, and enforcing deep breathing. Sitting upright with your spine aligned can reduce stress and anxiety, making this a good pose to get children familiar with!
How to do it: Start seated upright with your legs extended in front of your body. Then cross your legs at the shins and, keeping your knees wide, place each foot beneath the opposite knee. Align your head, neck and spine, lengthening your spine and softening your neck.
3. BRIDGE POSE
Also referred to as a 'back bend', bridge pose is another favorite yoga for kids pose. It helps strengthen the back, glutes, and legs, opens the chest, stretches the neck, shoulders, and spine, and improves digestion. Bridge pose is also known to calm the body and reduce stress and depression, making it another easy but meaningful pose to do with your kids.
How to do it: Begin by lying on your back with your knees bent hip-width apart, and arms out beside your torso. Raise your hips and pelvis, engaging your legs, and roll your spine off the floor. Lift your chest up by pushing your arms and shoulders into the floor. Bring your hands together and clasp them underneath your body. This is a restorative pose that will help you relax while also strengthening your legs and core.
4. CAT POSE
Cat pose is so simple, but it really packs a punch! It helps improve posture and balance, strengthens and stretches the neck, hips, and back, and massages the spine and belly organs. It's also very calming and soothing, offering a great way to alleviate stress and anxiety in kids and adults.
How to do it: Begin on your hands and knees in table top position. You can curl your toes or keep the tops of your feet flat on the ground. Round your spine and engage your abs, pulling your belly button towards your spine. Press down into the floor with your hands and relax your head.
5. SEATED FORWARD BEND
The seated forward bend is one of the best yoga poses for stress. It can help relieve anxiety and mild depression, eliminate headaches that often come with stress, improve digestion, and calm your mind for a better sleep.
How to do it: Start seated upright with your legs straight out in front of you. Reach your arms up above your head and then out towards your toes, leading with your heart and keeping your back straight. You can leave your back flat to stretch your hamstrings, or round it to stretch your back. You should feel a stretch, but no pain.
6. LEGS CROSSED FORWARD BEND
Simple, soothing, and a great way to calm the mind, this pose can be done sitting on the floor, or with a pillow underneath your bum to make it an even more relaxing yoga for kids pose!
How to do it: Sit up straight with your legs crossed and fold forward as far as you can, reaching your arms in front of you on the ground. Relax your head, dropping it in between your arms and rest it on the ground if you can. This pose eases tension in your body so you can fall asleep more easily.
7. CAMEL POSE
Camel pose is a classic backbend that works to open tight shoulders from sitting at a desk or computer. It's also a great way to boost energy and fight fatigue!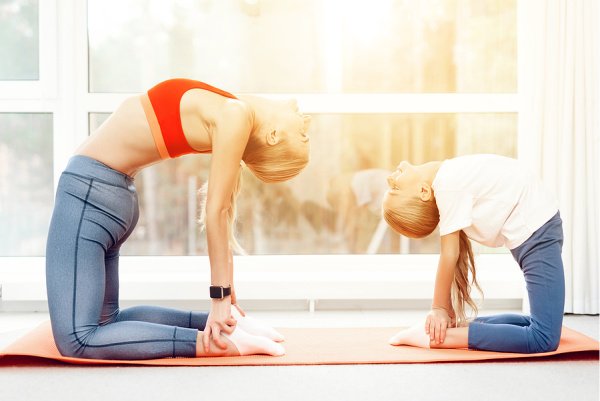 How to do it: Stand on your shins with your knees hip-width distance apart. Lean back, placing your hands on your heels, arch your back and let your head fall between your shoulder blades. Press your hips forward and stay there for five deep breaths.
5 Yoga for Kids Videos
Yoga for Kids! | STORYHIVE
If you're looking for a good introductory yoga for kids video, this is a great one to start with. Sophia will lead you and your little one through a warm-up, a series of breathing exercises, different poses, and a relaxing 'power down'.
Yoga for Kids with Alissa Kepas | Alo Yoga
Alo Yoga isn't just for comfy yoga attire – they also have a YouTube channel with tons of yoga and meditation videos you can stream for free from just about anywhere! This 15-minute yoga for kids video is another great one for beginners. You and your little ones will learn fun animal and nature poses and exercises, and she adds in great interactive sound effects to make things extra fun for kids!
Popcorn and the Pirates | Cosmic Kids Yoga
If you're looking for yoga for kids videos that are a little more interactive and fast-paced, Cosmic Kids Yoga has tons of videos to choose from! 'Popcorn and the Pirates' is a popular one, but be sure to check out their YouTube channel as there are tons of other fabulous yoga videos featuring different characters and animals for kids!
Yoga for Kids | Yoga with Adrienne
If you're looking for a longer yoga sequence for older kids, this is a great one to try, and it's the perfect outdoor activity for a warm, sunny day! She does a great job of combining breathing and relaxation with silliness and fun in this 30-minute yoga for kids sequence!
Rainbow Yoga for All Ages | Yoga with Adrienne
Great for all ages, this 17-minute yoga video is a great way to brighten your day! It will help boost your mood and release tension and stress, allowing you to let go of negative energy, calm your body, and focus.
I hope these yoga for kids poses and videos help your little ones stretch and strengthen their bodies, while also allowing them to calm down, relax, focus, and concentrate!