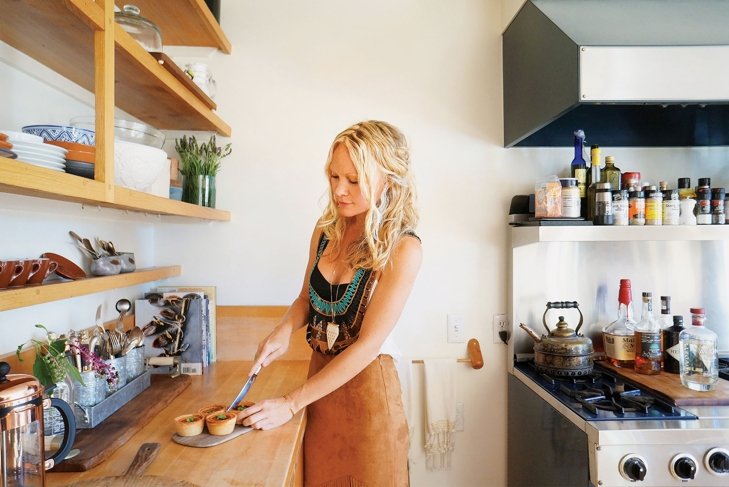 It's safe to say that Heather Tierney is a woman of good taste. The Indianapolis, Indiana, native has made a career out of curating the chic, from opening perma-cool food and drink establishments to creating enviable atmospheres through interior design and lodging endeavors. (If you're looking for a place to lay your head in Venice, California, book a stay at her highly Instagrammable Bungalow & Breakfast.)
Tierney, or HT, makes it all look easy and effortless, but anyone who knows the world of hospitality knows that the industry is anything but. It's thanks to HT's personal and professional prowess that the entrepreneur has found success in both New York and California.
We caught up with Tierney to learn more about how the Venice-based designer-turned-restaurateur became a bi-coastal trendsetter.
[Natalie] What was the first job you ever had?
[Heather] I was a food writer and restaurant critic for a magazine in New York called Time Out New York. It was thrilling because I was new to the city and it was my job to go out around town and discover all of these new bars and restaurants!
[Q] How did you get into design?
[A] I've always been interested in design. My first business was when I was 7 years old—I used to paint rocks and sell them at the end of my driveway. I always say I am first and foremost a designer—and one that likes to design bars and restaurants.
[Q] When did you launch Wanderlust, your design and creative agency?
[A] I launched Wanderlust around seven years ago. I used to design residential properties—first for my friends and then for clients. I jumped onto the commercial/hospitality side with The Butcher's Daughter.*
[Q] How did you decide to become a restaurateur?
[A] I guess it just happened because I'm a designer and I decided to open a cocktail bar with my brother—just so we could design it. I found a dive Chinese restaurant on an elbow-shaped alleyway called Doyers Street in Chinatown [New]. We transformed it into a cocktail bar, Apothéke, which is now 10 years old.
[Q] What were some of the early challenges of getting into the restaurant world?
[A] I definitely have to say we had beginner's luck with Apothéke, but I discovered along the way that this business is full of challenges and obstacles. It's hard enough getting a restaurant or bar open—but after opening day the real work begins. Restaurants are really a business of service. And that service relies on people. Your staff is everything. So if you have a good staff that you can rely on to provide good service to the community, then you have a good business. If you don't have good staff, then you don't have much of a business.

[Q] What inspired you to open The Butcher's Daughter?
[A] I started The Butcher's Daughter in NYC, around the corner from where I used to live—I used to have this fantastic loft on Bowery. I wanted to open a juice bar within a couple of blocks of where I lived because there wasn't one. I guess it started as a pet project that grew into a huge business! I knew I wanted to design it like a butcher shop (except with vegetables instead of meat hanging from the meat hooks). When you juice fruits and vegetables, you butcher them. I came up with the idea of calling it The Butcher's Daughter because I created a story in my head that if there were an old butcher today, his daughter would probably be a vegetarian, you know, because she grew up around all this meat and she's bored of it. She's rebelling against her father and she's really excited about vegetables!
[Q] How was the concept received when you opened in 2012?
[A] It was a huge hit! I remember we kept running out of everything because we didn't realize how busy we would be. I just kept telling people, "Come back tomorrow—we will have more!" Luckily we had very nice customers that kept coming back.
[Q] What were some of the most popular dishes?
[A] Some of our original dishes are still on the menu—like our avocado toast. We have a secret recipe that makes it addictive! We also have a spaghetti carbonara that is made from spaghetti squash, so it's much healthier.
Photo | Whitney Morris
[Q] When did you decide to open up shop in L.A.?
[A] I decided to bring BD to the West Coast because I was already living out here. I decided to move to Venice from NYC about three years ago. I absolutely love California and had been wanting to move here for a long time. I also knew that once I got here, Venice would be an ideal expansion. The brand is actually more West Coast than East Coast. The Butcher's Daughter exudes the California lifestyle!
[Q] How did you pick Venice?
[A] First and foremost: the weather! I love the idea of having a restaurant that can be indoor/outdoor with the ocean breeze flowing year-round. I think Venice and California in general is very focused on a healthy lifestyle.
[Q] What are some of your favorite dishes at the restaurant?
[A] I love the pizzas here at the Venice location. The space came with a stone pizza oven from the previous tenant, so we added pizzas to the menu with lots of fresh veggies—they are delicious! I also love the handmade pastas at dinner.
[Q] You have so much going on! How do you stay sane balancing all of your businesses?
[A] I live at the beach, so I think just living by the ocean keeps me sane. I have a little baby now, so I take him out for walks on the beach almost every day.
[Q] How do you stay healthy? Do you have any particular routine you follow?
[A] I do a lot of yoga. I also like running on the beach, and when I have time, I like to go on a long hike.
[Q] What's next? Any other ventures coming up?
[A] My husband and I recently took over [On] the Waterfront: an old beer hall right on the boardwalk. We are renovating it and rebranding it to become a local beach hang—one with good food!
Want design inspo for the ultimate wellness space?
Follow @wanderlust_la_nyc to witness the perfect marriage of macramé, greenery and rattan.
Heather's top self-care strategies
Find your zen: She is a big yoga fan.
Get creative with carbs: Try subbing in spaghetti squash noodles when making carbonara.
Lace up: When time permits, head out for a long hike or a jog (on the beach if possible!).
*To step inside The Butcher's Daughter, Tierney's dreamy cafe and juice bar, click here.