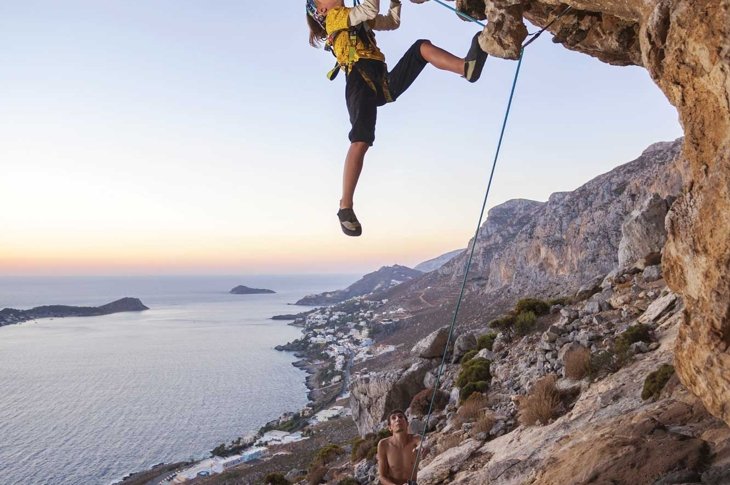 Exercising together creates a healthier mind, body, and family connection. Commit to getting fit as a family with these creative and fun activities!
It's time to get off the bench and resolve to get fit as a family! These ideas will help you achieve your family fitness goals.
Less is more
Families who work out together develop respect for one another, strengthen family bonds, and achieve the daily physical fitness every person needs.
Dr. Kim Foster, family physician, mom, and author says, "The truth is, it's not usually enough to be a 'weekend warrior' when it comes to physical activity … Activity guidelines recommend kids get at least 60 minutes of activity every day, and adults should get at least 150 minutes a week. Squeezing in just a little activity with your family during the week—like an after-dinner bike ride—can help your whole family hit those targets."
Perhaps parents should take a less-is-more approach to family fitness. Instead of driving one child to hockey practice and then dashing over to pick up a sibling at dance class, everyone enjoys one fitness activity together, at the same time. The concept of one sport for all to enjoy means less time spent sitting while your kids exercise, a reduced carbon footprint for your vehicle, and easier time management—plus, it increases the focus on the family unit through a unified bonding activity.
Reversing roles
Taking a structured fitness class with your family is valuable, explains Michael Walsh, director of Northern Karate Schools. "Reversing the role of who is in charge, to my mind, is very healthy … When a 10-year-old brown belt is teaching his mother how to get through her yellow belt test, there is a bond being developed that strengthens the family dynamic. Children learn that parents have to learn like they did. Parents, as students, gain a renewed appreciation for how hard it is to perform [the] techniques."
Health benefits
Foster advocates the advantages of fitness. "There are almost endless benefits to leading an active lifestyle: better sleep, better mood, increased fitness, improved longevity … the list is long," she says. "There are added benefits to being active with your family, though, and one of the biggest is the role-modelling aspect. By showing your kids that being active is a priority—plus it's fun—not only are you improving your kids' health right now, you're increasing the likelihood they'll stay active throughout their lives."
Making it happen
Will the kids really want to give up their extracurricular activities to get fit with their parents? Deb Lowther, writer, business owner, and mom of three active daughters has been through it. "There will be resistance," she says. "Kids are kids. We'd all rather sit on the couch some days. But get dressed, plan that bike ride. Go hiking in the mud, learn to ski together, go indoor rock climbing, jump on the trampoline with the kids. I promise you will have fun and a lifetime of great family memories."
Make family fitness fun by preparing an idea jar of weeknight activities (quick activities such as a neighbourhood walk) and a jar of weekend activities (longer activities such as horseback riding). Then, take turns picking an activity from the respective jar each day. This incorporates kids in decision making, yet allows parents control over timing.
Don't stay motionless while your kids work out. Fitness is for the whole family! From a spontaneous game of backyard tag to an afternoon of geocaching or karate classes three times a week, exercising can allow families to spend their energy and precious time together.
Rain or shine family fitness activities
Don't let the weather stop the fun! Try one of these activities.
Indoors
yoga
martial arts
indoor rock climbing
skating lessons
drop-in family leisure swim
motion tracking video games
Indoors or outdoors
jumping jacks
CrossFit
circuit training
obstacle courses
Activities for any time
Whether you've got a precious hour on a busy school night or an entire weekend, there's always something fun to be done!
Quick weeknight activities
play at a playground (indoor or outdoor)
do burpees
play catch
play tag
go rollerblading
go bike riding
walk like a crab
play Ultimate Frisbee
jump on a trampoline
Longer weekend activities
explore a maze or labyrinth
play badminton, tennis, basketball, baseball, or soccer
go hiking
go geocaching
go horseback riding
run a colour run
go zip lining
go skiing
play baseball (softball or hardball)
go bowling
play table tennis or Ping Pong
"Alphabet Categories" game
Play this game as a family the next time you're out hiking, biking, or playing catch. It also doubles as a boredom buster, so it can be great for road trips!
1. Decide on a category
for younger kids: first names or fruits and vegetables
for older kids: cities or countries
2. Take turns coming up with something in the chosen category that starts with each letter of the alphabet. (For instance, in the "fruits and vegetables" category: Apples, Blueberries, Cherries, Dates …)