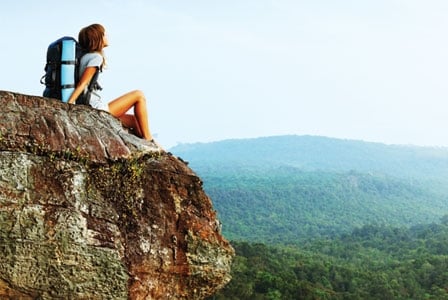 Bored with lying on a sandy beach? More women than ever before are opting for wilderness adventure travel that caters to women only.
They represent one of the largest demographics of travellers today—women looking for something more challenging than tanning on tropical beaches or playing shuffleboard on a cruise ship. Women are seeking adventure—on their own.
I recently joined seven women whose vacation challenge included cycling along the beautiful Confederation Trail in Prince Edward Island and sea kayaking off the Magdalen Islands, a remote archipelago in the Gulf of Saint Lawrence.
Though we were all strangers before meeting on the first day of our adventure, the crisp, salty air, the delicious food, our aching muscles, and a shared sense of accomplishment all helped to spark lively conversations right from the start.
They're part of an emerging trend
Jen Patterson, store manager for the Adventure Travel Company, sees this trend every day. "The majority of people who travel on their own are women," she says. "A lot of my clients are single (independent) women, and they rebook and rebook."
Wilderness outfitters across Canada are also seeing this growing trend. They are adding more women-only trips to their rosters and selling out.
For Diana Parad, 63, all it took was a quick Google search to find Wild Women Expeditions (WWE), a women-only adventure travel company, and its East Coast trip.
Women's adventure trips are very successful
Parad is no stranger to being physically challenged herself; the problem in recent years has been finding people who are willing to join her.
"I used to do mother-daughter trips until my daughter decided she was too old for that," Parad says.
Women on these kinds of trips each have their own reasons for seeking out an all-ladies adventure. Sometimes it's as simple as a lack of knowledge or gear.
But Jen Haddow, director of WWE, sees safe space as vital. Some women have just gone through a divorce, some have experienced abuse, and some want to introduce a partner to wilderness adventure in an open and accepting environment.
"We are very inclusive and welcoming of diversity," Haddow says. "I think, for a lot of women, feeling that kind of safe space is really important."
Respecting individual needs and comfort levels is part of what bonded the women on the East Coast trip. Continual open communication helps create a safe environment and sets women-only trips apart.
They're different from men's vacation trips
It's important to keep in mind that group dynamics, regardless of the gender, are based on the individual personalities involved. However, experts do notice distinct trends when dealing with groups of women in an athletic context.
On women-only trips "there's such a contrast to the mainstream narrative about what it means to go into a wilderness experience and succeed," Haddow says.
For her it can be as simple as pace and expectations. Often when we think about a guys' trip we have an image of blunt determination, of men using physical force to get through the go-go-go pace.
According to Dr. Jean Marmoreo, who specializes in the health of middle-aged women and is a fellow adventurer, this macho dynamic can be intimidating.
"I think everyone can feel the issues of aging and frailty," she says. "But I think women are much more predisposed because they grow up to think that they are less strong, less capable, and less able than men."
Marmoreo started a marathon running group for women, called Jean's Marines. One of the first things she noticed was the benefits of the social rather than the competitive context of exercise.
"What women have to offer is tremendous support for one another, a tremendous bond that kind of runs out to other people's needs," Marmoreo says.
For Gordon Bloom, associate professor of sport psychology at McGill University, communication is key to these differences, especially from leadership.
"It is more important for women's sports that you can articulate the reason you are making your decisions," he says. "For men, you give them the marching order and they are likely to do it, whereas women would like to know why."
They're also good for your health
Participating in adventure-based activities helps create goals and healthier habits. It's no secret that maintaining a healthy body leads to numerous health benefits, such as strengthening the heart and lungs, increasing energy levels, and reducing stress.
Many of the women on my East Coast trip took up a more active routine to prepare themselves, cycling around the cities where they live, using a rowing machine, or even working with personal trainers to get ready.
"It becomes an identifiable sense of this is who you are, and it's a very active one," Marmoreo says.
A 2009 Statistics Canada review of women's health found that 25 percent of women 15 and over felt most of their days were "quite a bit or extremely stressful."
"If you are involved in physical activities … you are going to have what we call psychological advantages or better emotional health," Bloom says. "Less stress, less anxiety, increased self-esteem, better concept of yourself and your image."
Statistics Canada also points out that since women's life expectancy is higher than men's, women are more likely to develop chronic health issues that appear with age, such as arthritis.
According to Marmoreo, being physically active, which includes engaging in both aerobic and weight training exercises, will go far in preventing these chronic issues.
Many types of trips are available
For all of us on the East Coast trip, the real challenge to our comfort levels came while sea kayaking. Most of us had never paddled a kayak, let alone engaged in fighting heavy winds, a common occurrence around the Magdalen Islands.
While exploring the wilderness, part of the adventure is to challenge yourself to see what you can accomplish. Outfitters across Canada offer adventure-based activities for every level of ability, comfort, and financial means.
Your adventure can be as diverse as a yoga and hiking retreat through Gros Morne National Park in Newfoundland to paddling the remote and rugged Nahanni River in the Northwest Territories.
There are those that provide as much cultural experience as wilderness adventure, or even creative canoe trips that include an expert to help you make your own works of art. There really is something for everyone.
Though all of the adventurers in my group arrived as strangers, we left the East Coast with a common bond. Although we challenged ourselves physically, the real joy of the adventure was encouraging one another, opening up, and learning about ourselves and each other, all while exploring nature at its wildest.
Where to look for women's adventure travel
Where you search is important. Checking outdoor magazines is a good start, but often the Internet is your best bet. Keep in mind that most outfitters now provide women-only trips.
Here are a few sites to get you started on your own eco-adventure.
Journey Woman: a resource for women-only trips, advice, and stories (journeywoman.com)
Canadian Wilderness Women's Network: offers weekend workshops (wildernesswomensnetwork.com)
Canoe and Kayak Adventures in Ontario (paddlingontario.com)
Adventure Travel Company: create your own trip anywhere in the world (atcadventure.com)
Wild Women Expeditions (wildwomenexp.com)
Elements Women's Travel (elementstravel.com)