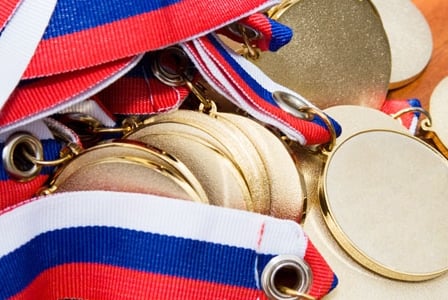 Based on factors such as population base and wealth, economists predict China to edge out the US in this year's Olympic Games.
The Olympics will be under way next week in London, and economists at Ruhr-Universität Bochum have taken a bold step to predict medal outcomes for the top countries participating in this year's events. What's more, they haven't taken into consideration any of the individual athletes' performance expectations, only statistical information based on the various country profiles.
What do they predict? They expect China to edge out the United States this year with 102 medals to 100. Russia will be the third runner-up with 71 medals.
The research
The forecasts made by the Bochum economists were made using econometric models—statistical methods that take into account both mathematical and economic resources.
The researchers took into account various political, economic, demographic, and cultural data to "retrospectively forecast" the medal winners of previous games. Based on the models that they've developed, they've been able to correlate their data to a 97.4 percent correlation to the actual medals table of participating countries in the Athens games in 2004 and up to 96.9 percent for the Beijing games in 2008.
Some of the factors that the predictions take into account
Countries with larger populations have a larger number of talented, and therefore successful, athletes than countries with smaller populations.
Wealthy countries can afford to spend more on their athletes than countries with less income per capita.
Political systems also influence success: countries with socialist systems or a socialist history have been more successful at collecting medals in the past.
Additionally, the economists at Bochum looked separately at the medal counts for men and women. They suggest that women from countries with emancipated societies and that have equal opportunities in the workforce are more successful than women from countries that are more patriarchic. The researchers looked at factors such as women's participation in the labour force, fertility rates, and the number of years women have been able to vote.
The researchers also factor in home advantage and climate into their studies. Athletes from the hosting country often benefit from an increase in resources and athletic support in preparation for hosting the event. And, especially when it comes to outdoor sports, countries with extreme weather conditions may be at a disadvantage compared to participants who come from more moderate climates. As such, the United Kingdom is expected to take home more medals (57) than before.
Implications for global competition?
If the researchers' predictions turn out to be accurate, the implications could reveal an uneven playing field for countries competing in a global market economy. After all, if disadvantaged countries aren't able to compete in athletic events, could this be an indicator for how developing countries are able to promote growth and increase standards of living?
The medal winners
Unfortunately, it doesn't look like the study expects much from Canada at this year's Olympic games. Brazil, however, based on the anticipation of the 2016 Olympics being held in Rio de Janeiro, is expected to increase its medal count to 28.
The following list shows the researchers' predictions for the 15 highest ranking countries in this year's Olympics
1. China (102 medals)
2. United States (100)
3. Russia (71)
4. UK (57)
5. Australia (43)
6. France (39)
7. Germany (36)
8. South Korea (31)
9. Cuba (29)
10. Brazil (28)
11. Ukraine (28)
12. Italy (27)
13. Japan (27)
14. Belarus (19)
15. Spain (19)